Our first spotlight is on James Dempster, Northridge Head of Sales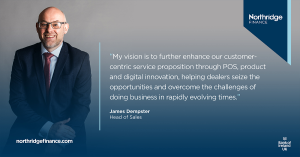 Having spent his entire working life in the motor industry, being adaptable and customer-focused are second nature for James. His sector knowledge and track record of building rewarding relationships are key assets in times of change.
Since joining Northridge Finance, James has held the roles of  NI Region Territory Manager, Regional Manager and holder of Key Accounts. As SME and Fleet Manager, he managed four sales channels UK-wide: direct sales, asset brokers, secondary brokers and contract hire providers, weathering the turmoil of COVID-19.
"My vision is to further enhance our customer-centric service proposition through POS, product and digital innovation, helping dealers seize the opportunities and overcome the challenges of doing business in rapidly evolving times. I look forward to working in partnership to ensure the coming years are sustainable and profitable for dealers."